Receipt Saver App: How to Save Smart Receipts in the Cloud
In this article, you'll learn all about receipt saver apps and how to save smart receipts in the cloud
Have you ever faced a situation where you urgently needed your receipts but failed? Maybe you threw them away or lost them. It happens and it is inevitable. If you don't back up your receipts you risk losing them.
Whether it's being stolen by someone or something like a fire or flood destroying your house. You can save your receipts with a cloud mobile app. Saving your receipts in the cloud is a great way to reduce clutter in your home.
Most Importantly, at the end of the day what really matters is that your records are safe and backed up. So if you are a businessman or an individual curious about organizing and saving receipts efficiently, Here's how to save smart receipts in the cloud.
Why should you save receipts?
Almost all successful businesses keep their records organized. Even though that sounds pretty straightforward, most business owners still don't bother with keeping records for tax and other purposes. They may not even think they need to organize records.
Whether you're running a small business or filing up the taxes, it's crucial to know where your money is being spent. Properly storing receipts can not only improve tax deductions but also help you streamline processes. Receipt saver apps can massively help you in this aspect. Here are some of the reasons why you should save receipts:
Monitor your business's progress
No business is good enough to avoid competition. With all the people working hard and trying their best to build their businesses, it's easy to end up in a sea of receipts, and expense reports. So how can you stay on top of your game? By saving your smart receipts and records on the cloud, you can easily search for your required receipts when needed and analyze your business's performance.
Preparing financial statements
To properly prepare a profit and loss statement (P&L) and balance sheets, you need your receipts. This is true not just at tax time, but year-round. Profit and loss statements and balance sheets are very important for your business, especially if the company is doing well.
Identifying the source of receipts
If you accept credit cards for payment of goods or services, you must be able to provide your customers with receipts. Proper records enable you to separate taxable income from nontaxable income and identify those expenses that are actually deductible business expenses.
Keeping the track of deductible expenses
If you are an individual or sole proprietor of a business, keeping records of all your expenses and deductions you made during the year will help you minimize the amount of taxes you pay at the end. Keeping records can be a lot of work, but if you use receipt saver apps, it can save you a significant amount of money.
Preparing tax returns
Receipts help you recreate a snapshot of your tax year. A lot of people throw away their receipts after filing returns at the end of the financial year but there are experts who recommend keeping them for at least seven years. The best thing is that by storing your receipts in the cloud, you can save them forever!
What receipts should you save for taxes?
You're probably wondering…What receipts should you actually save and keep in the back of your filing cabinet for your tax return? What's essential for your tax return? I can tell you that most people don't know how to effectively save their receipts. It can be tough to determine which deductions are tax-deductible.
Below, I address some of the questions surrounding deductions, show you exactly which items are tax-deductible, and help you sort out which ones will help you decrease your taxes now.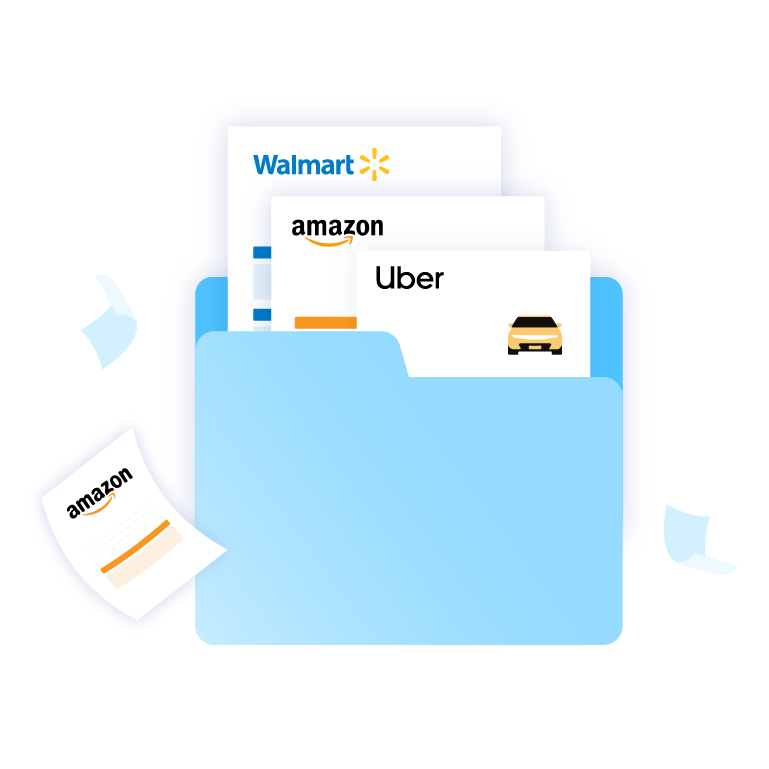 If you are an individual, you should save the following receipts:
Medical expenses
Did you know that medical expenses are deductible on your personal income tax return as a medical expense, especially in countries like the United States of America where medical bills make up most of the healthcare costs?
You can make use of receipts and create expense reports of nursing care, hospital stays, cost of eyeglasses or contact lenses, prescription medicines, sessions with a psychiatrist or psychologist, occupational or physical therapy sessions, transportation via ambulance to a medical facility, and other things to save your tax.
Educational expenses
As per the government, a student enrolled in a recognized and eligible educational institution can avail for education-related tax deductable expenses that include the required tuition fee, books, study equipment such as a computer or peripheral device, internet access, computer software, and other related services.
Childcare expenses
A child who is under the age of 13 is considered dependent. You can claim a credit for a child or dependent care expenses paid to a babysitter or after-school program, or another care provider. In case the care is provided in your house, additional expenses may also qualify, including the cost of cook, maid, or housekeeper. These credits only qualify if you paid them in order to enable you and your spouse to earn some income or if your spouse is either disabled or a full-time student.
Self-employment expenses
If you are self-employed, most of your expenses including the cost of insurance, office-related stuff, travel, etc. can be deducted when you pay the income tax.
If you are a business owner, you should save the following receipts:
Sales slips
Paid expense reports
Invoices
Receipts
Deposit slips
Canceled checks
What receipts should you save in addition?
The simple answer is to save all the receipts you receive. You never know what might be needed one day. Some of the other important records to save are:
Payroll
Business transactions
Journals
Ledgers
Previous tax returns
Travel, entertainment, transportation, and gift expenses
Employment taxes
Assets and business property
Canceled checks and bank statements
Credit card statements
1099, K1, W2, and other forms
How to save receipts electronically ( in the cloud)- Step by step
Saving receipts in the email is not enough. Most people do this way of managing their expenses because it's convenient, but there are many disadvantages of this. It's important to save receipts on the cloud for future reference.
Cloud storage is basically a way to store your files on computers or servers that are connected to the internet. You can access these files using an Internet connection from wherever you are in the world. This gives you lots of advantages over storing your files on a hard drive or USB stick.
Some of the reasons to use cloud storage to store your records are::
Reducing the clutter at your house or office
Quickly finding a receipt among hundreds or thousands of others
Backing up your records and easily accessing them from anywhere
Your data will remain secure
Saving your receipts on cloud
Now, in order to save receipts in the cloud, all you need is your computer, laptop, iPad, iPhone, or any device with an internet connection and you are good to go! First, pick a cloud platform to save your records. In this article, we will talk about the three most popular cloud platforms that offer a few Gigabytes of free space to individuals.
There is no such thing as a free trial on the following platforms. They offer either a completely free unlimited duration plan at low storage or a paid plan for a higher amount of storage.
Google Drive
Google Drive is Google's Cloud Storage solution. Since it is a service provided by Google, there won't be any ads, unlike other similar products. The free storage provided by this platform is 15GB which can be increased to a higher limit by connecting your Google accounts. All you need to do is to create a Gmail account.
Then go to www.google.com/drive/ and log in via email account. Once you are done, click on the "Create folder" button and create a new folder. Now, whenever you receive a receipt, bill, or any other important document, you can upload that in this folder. Moreover, you can also share this folder with others by changing the "Sharing options".
Dropbox
DropBox is a free cloud storage service that allows you to upload and manage any digital file to the Cloud. You can access files from your desktop, laptop, tablet, and mobile phone using Dropbox mobile app.It can also work as a receipt saver app.
You can store up to 2 Gigabytes of files with the free Dropbox Basic account however, this app offers in-app purchases that can be used to subscribe to a higher plan, you can have over Terabytes of storage space on your cloud.
To store your receipts on dropbox, head towards the settings menu, and then click on Require app passcode. Using this, you can set up your own personalized four-digit PIN lock. Once you are done, create a folder that will be dedicated to receipt storage, and you are done!
Evernote
Evernote is a popular cloud-based productivity suite with over 45 million+ users. Here, you can create to-do lists, organizational checklists, managing an expense report, and save voice recordings as well. You don't even need to use text while making these notes.
Evernote allows you to create all these notes in an audio format. It is available on any of your devices without worries. The procedure to save a receipt or a bill on Evernote is the same as that on Google Drive.
Receipt Scanning Apps
Once you have chosen your online cloud platform, you can easily download a receipt scanning app from the play store or the internet. Or you can look at the following list of the best receipt scanning apps out there on the internet. A receipt scanner app is used to scan receipts, receipt photos, and other documents.
What Receipt Scanning Apps you should use
Some receipt scanning apps also have amazing features that let user create an expense report, mileage smart receipts, data entry, accounting, expense tracking, and analyze the expenditures via interactive graphs and charts. All you need to do is to snap a photo using the receipt scanner app. Then the app will automatically scan the image and maximize the quality of that image to make it more readable.
Then you can export the scans either in JPEG PNG format or you can export the scans in PDF CSV format. Once you export your smart receipt, you can upload it on your cloud platform. The following are some of the best receipt scanning apps that you can use to scan receipts.
These apps or software can work either on android, iOS or on the computer and have a high number of ratings and positive reviews from their users on the internet. Some of these apps are free while others have a high price but offer a free trial.
WellyBox
Receipts by Wave
NeatDesk
NeatReceipts
Evernote Scannable
Shoeboxed
Veryfi Core
Smart Receipts
Don't forget to share

Top articles to read next