11 Best Receipt Management Tools (Apps and Software Solutions)
Whether you own a small business or a large-scale one, managing your bills is always top priority.
11 Best Receipt Management Tools (Apps and Software Solutions)
Whether you own a small business or a large-scale one, managing your bills is always top priority.
In this article, you'll learn the best receipt management tools including the best software and apps.
Even when it comes to personal expenses, there is just no running away from bills.
It is easy to fall into the habit of throwing away your bills. It is also common to find yourself rummaging through piles of bills to understand where all your money went. With everything in the world moving online, it is time you took bills more seriously and moved digital!
What is receipt management?
It is the process of storing and filing your receipts in an organized manner to keep a track of your expenses. Receipt tracking helps business owners know where their money is going. It also helps you keep an eye on your business's total sales. When it comes to household expenses, receipt tracking helps with keeping a check on the total expenses of the family.
Companies usually deal with two kinds of receipts. First is expense receipts. Such receipts are generated by suppliers from whom the business buys goods for resale. It can also be generated for the raw materials a business buys for production. These receipts are also generated when a business invests in fixed assets like furniture, machinery, any other equipment required for business use. Such receipts are also generated when a business buys a service, for example, maintenance services, cleaning services, furnishing service etc.
Another kind of expense receipts are reimbursable receipts that employees submit to the accounts team. Apart from expense receipts, a business also generates sales receipts, for the goods that it is selling to its customers. Small business owners can keep a track of all revenue generated by the business by having an efficient receipt tracking system.
Receipt scanning apps are very useful when it comes to receipt scanning, receipt tracking and expense tracking. They also have special features that can create expense reports and smart receipts. Paper receipts are a hassle to deal with. The benefits of moving your receipt system online are very far-reaching.
Why is managing your receipts so important?
Managing your receipts efficiently can have wide-ranging benefits for your business. A good receipt scanner and tracker can reduce the administrative burden on the employees. The amount of time and effort that is spent by employees on hand-filling all documents is humongous. Paper receipts contribute to the long chain of paper waste.
They are also easy to lose and difficult to store. A good receipt scanning and receipt tracking software will magically smoothen the process of data entry for your employees. This data can then be used to create expense reports for the business. With the help of a good software, a business can make the process of expense report generation fully automated. Receipt scanning apps can make managing your bills much easier and advantageous.
Additionally, digitally stored bills can be categorized into various sub-heads to generate specific sector reports. This kind of grouping can prove advantageous when looking for tax deductions during the tax season. If one type of item is tax deductible, other items listed under the category are also likely to be tax deductible. Keeping a copy of the tax deductible receipts is also very important. They will prove useful when you are submitting your details for tax exemptions. The process of auditing becomes a lot easier if a company has maintained all its records clearly.
Pros and Cons of different ways to manage receipts
Manual system
Organizations of all sizes need to think about managing their bills smartly. Traditional systems of managing receipts put unnecessary workload on the employees.
It is extremely challenging to generate and keep track of manual bills. Let's look at the process of receipt generation more closely.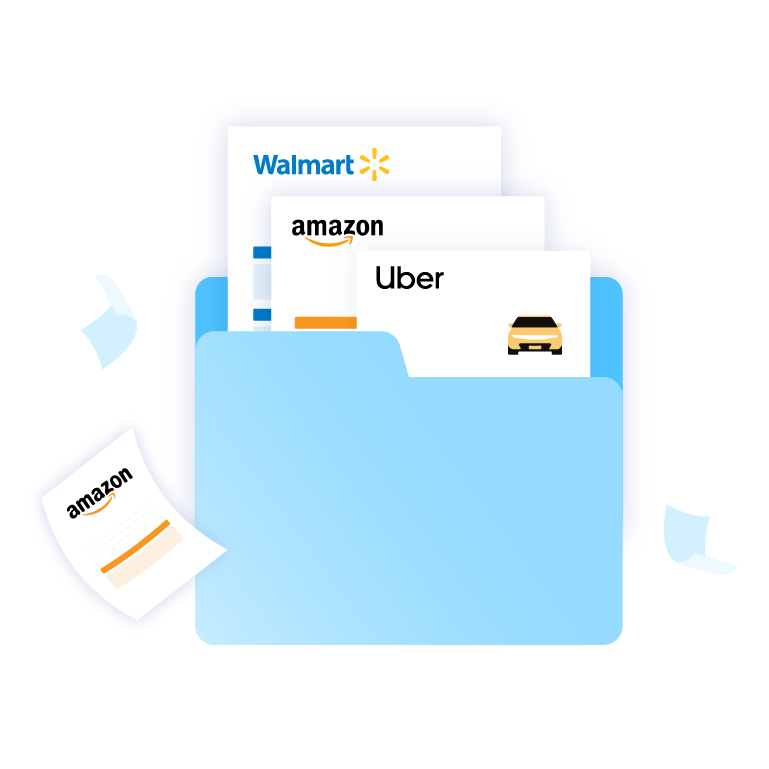 First, let's talk about the sales receipts, the bills that a business generates for its sales. Usually, small business owners generate these receipts on a daily basis. Since these receipts need to follow a set format, a particular person is assigned to fill in these receipts. After that, they are chronologically documented into a physical file. This file needs to be kept in safe hands because it has all the confidential details of your company.
A business just can't afford to lose this data. So most of the times, businesses assign a person to create scans of these documents. In case something happens to the hard copy of the documents, we at least have the digital ones. While many people believe that this is the simplest way to manage your receipts, it is not. A lot of time and effort is invested in this process which can easily be streamlined with a cloud-based system.
Let's also have a quick look at the process of reimbursing receipts submitted by employees. The employees submit paper receipts of all expenses to the accounting team. The manual process of approval can take a large amount of time delaying reimbursement for the employees. The extra workload leaves both the accounting team and the employees unhappy.
App/Software based system
There are different ways in which an app-based receipt tracking system works. Businesses either choose to go partially digital or can invest in a software that streamlines the entire process. A number of businesses use apps like Microsoft Excel for receipt tracking. Most of the process is still the same as a manual system. The app securely stores your data digitally.
The advantage of using an app for receipt tracking is that it enables users to generate expense reports. You can also run various analytics on each data entry to understand your business expenses and revenues better. A small business can function well with partially managing their bills on an app.
The most important feature of a receipt tacking software is its in-built receipt scanner. A receipt scanner eases the process of scanning your bills manifold. The time-consuming task of receipt scanning's processing is much quickly with an app.
Good receipt scanners are able to extract data from the bills on their own with something called optical character recognition. Digital receipt scanning reduces the chance of error and it can help employees focus on their core tasks. Even small-business owners are investing in good receipt scanning apps now. A receipt software generates automated expenses reports on a monthly basis. These reports help you keep a regular track on the business expenses and revenues. It also integrates with the company's accounting software to ensure everything is in sync.
Best receipt management apps
Here are some of the best receipt scanning apps that will help you manage your bills smartly and efficiently.
WellyBox
WellyBox is the smartest most easy to use automated expense tracker. Scanning your expenses is as simple as clicking a photo and sharing with your WhatsApp chat bot. Your emails and credit receipts are scanned automatically to generate digital permanent reports stored in the cloud.
From scanning using a highly advanced OCR technology to using advanced algorithms to automatically read your bills. This saves you invaluable time to calculate taxes, hiring an accountant, or tracking thousand of physical bills.
It makes accessibility and accountability a painless task. WellyBox also syncs with your QuickBooks accounts to make a seamless transfer. Expense reports can be accessed anytime, anywhere thanks to convenient cloud storage in any of the popular websites.
WellyBox is also available as a standalone website as well as on the iOS and Android platform for free to try.
QuickBooks
A number of small businesses are already using QuickBooks for managing their expenses and accounts. But its newest receipt management feature has made receipt scanning and tracking much easier.
You can import images to QuickBooks with your mobile app. It can extract data from these images on its own with the help of optical character recognition. This data is presented for approvals on its Desktop version for you to review. QuickBooks's user-friendly interface is easy to use. It takes little time for business owners to get used to the app. It has a desktop version along with a mobile app that is available on iOS as well as Android.
Shoeboxed
Shoeboxed works a bit differently than other receipt scanner apps. Businesses can send in their receipts to Shoeboxed via post or email. They can also scan them through the company's receipt scanner. They then extract important data from the documents. ShowBoxed stores them digitally for easy receipt and expense tracking. With the help of Shoeboxed, you can outsource your entire receipt scanning process.
It will also let you store your receipts digitally for as long as you require. The app provides excellent mileage tracking and also lets you scan receipts offline. Automatic detection of expenses from the company credit card and generation of smart receipts are some of its most liked features.
Best receipt management software
Smart Receipts
Smart Receipts offers one of the best receipt scanners on the market. You can take new photos by integrating it with your phone or import existing pictures from your gallery. The app is especially beneficial for small businesses that deal with an abnormally large number of bills. Its receipt scanner lets you store your documents in any digital format.
The receipt scanner is extremely easy to use and will let you scan multiple photos at the same time. It offers automatic backup on Google drive so you don't have to worry about losing your data. With features like generate a fully customizable expense report, it is also a great app for expense management. It offers an iOS/ Android mobile app and a web-browser based app as well.
Neat
Neat offers a wide range of services when it comes to effective receipt management. It offers a desktop version called NeatDesk and an app version called NeatReceipts. Neat also has a excellent receipt tracking system and user-friendly services, perfect for small businesses. The software has one of the best receipt scanners perfect for managing your receipts and invoices. This lets you share your data with the team easily and creates cycles of approvals. The data extracted from your documents generates expense reports among other things. Neat is a great pick for businesses that generate a relatively high number of bills.
Conclusion
As you can see, receipts are not miscellaneous bits of paper. You can not get a complete idea of your spending unless you pay close attention to your receipts. Good receipt scanners are able to extract data from the bills on their own with something called optical character recognition. Digital receipt scanning reduces the chance of error and it can help employees focus on their core tasks. Even small-business owners are investing in good receipt scanning apps now.
They are useful in generating expense reports and keeping a check on the business's expenses.
An efficient receipt management system will increase your business's productivity and reduce administrative workload. So, go ahead and invest in the receipt management system that works best for your business type and size!